Welcome to the web site of Australia's newest grand piano manufacturer, Overs Pianos. Please refer to the site index to the left of screen. In addition to providing information on the Australian manufactured Overs 225 grand piano and the soon to be launched Overs 173 Studio grand piano, information and images are provided on the evolutionary Overs grand piano action and the revolutionary new Overs I-rib sound board. We also include technical information for piano technicians and rebuilders, and others who have an interest in piano design and technology.
Ron E. Overs. August 2008
Overs Pianos has developed a reputation for grand piano rebuilding without compromise. As a consultant technician and educator, Ron Overs has lectured at most of the Australasian Piano Tuners & Technicians Association (APTTA) conventions and at the US national PTG convention in Reno Nevada, July 2001 and Rochester, NY, 2006. He has rebuilt several concert grand pianos for leading Australian broadcasters & concert venues.

The all new grand piano action (patent pending) was designed by Ron Overs in 1999. This action has considerably less friction than grand piano actions from other contemporary manufacturers, and is fitted to the new Overs 225 cm grand piano, currently in production at Overs Pianos Sydney workshop. Piano No. 006 was exhibited at the US PTG convention in Rochester, NY state, in June 2006 to critical acclaim.

THE OVERS GRAND PIANO ACTION

In May 2000 the new Overs grand piano action was selected for inclusion in the Australian Technology Showcase (ATS) program. The ATS was established by the New South Wales government to promote leading Australian technologies at the time of the Sydney 2000 Olympic Games.

The Overs 225 grand piano no. 001, fitted with the first Overs action, was exhibited at the July 2000 APTTA Convention at Sydney's Darling Harbour Convention Centre.
OVERS grand piano no. 003. This piano was exhibited at the 2001 PTG convention in Reno Nevada.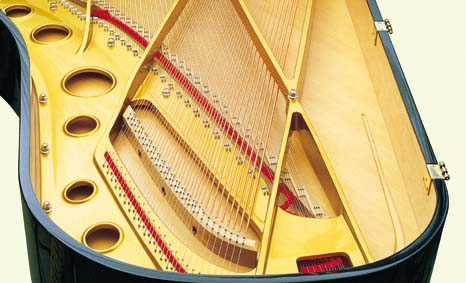 For a full image (147K) of piano no. 003 in a new browser window, please click on the image.

OVERS PIANOS - SYDNEY, AUSTRALIA
339 Concord Road, Concord West, NSW 2138
Phone (international) 61 2 9736 2332
Fax (international) 61 2 9743 6563
Fax (local) 02 9743 6563
Email office@overspianos.com.au

First published, 11 December 1998
Last updated, 29 August 2008
Copyright © 1998-2008, Overs Pianos.