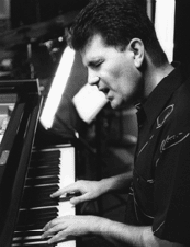 Pianist-composer Mark Isaacs has pursued a unique and demanding career path that has seen him gain international recognition in both jazz and classical music. Such diversity was nurtured in the crucible of a highly musical family.
Mark's uncle was the legendary British jazz guitarist Ike Isaacs, who worked for many years with jazz violinist Stephane Grapelli and was on friendly terms with many of the biggest names in jazz. Duke Ellington came for dinner one time, and there were visits from George Benson, Joe Pass, Barney Kessel and many others. As Mark grew older he would have informal jams with some of the famous musicians who would visit the Isaacs household. Another uncle was a distinguished classical violinist who worked with the London Symphony Orchestra and led his own string quartet. Mark's father was also an accomplished jazz guitarist and his mother had been trained as a classical pianist.
Mark's family on both his parent's sides were of Iraqi Jewish origins, but had lived in Burma for several generations. His parents emigrated to London as young adults, where Mark was born. The family emigrated again to Australia when Mark was four.
Mark began piano studies at age 5 and it was soon discovered that he had perfect pitch. His mother would play Chopin for him, and his father would sit on the end of his bed at night and play the chord changes to jazz standards without the melody - Mark's job being to guess the tune from the harmonies alone. Beginning around age nine, Mark began to experiment with improvising on jazz standards.
From age 12 Mark began a ferocious interest in classical composition and began to compose orchestral and chamber works, for which he won many awards throughout his teens. Aside from his continuing classical piano program, he studied composition, counterpoint, orchestration as well as jazz ensemble work and arranging after school. He began University studies in classical piano and composition initially in Sydney, while at the same time being recognised as one of the major emerging jazz players in Australia, recording his first jazz album as leader while barely out of his teens.
From his early 20s Mark travelled extensively, spending periods of time checking out jazz in New York and Europe, studying piano and composition at the Rubin Academy in Jerusalem, doing a conducting course in Germany and ultimately completing a Master's degree in classical music at the prestigious Eastman School of Music in the USA. In 1996 he was awarded a two-year Music Fellowship by the Australia Council for the Arts.
Mark has been commissioned to compose pieces for such prominent ensembles as the Australian Chamber Orchestra, Sydney String Quartet, Adelaide Symphony Orchestra and the Australia Ensemble, who performed one of his pieces at their Carnegie Hall recital. His pieces have also been performed in Berlin, London, the USA, Amsterdam (by the renowned Calefax wind quintet), Japan, India and China and released on disc internationally.
In 1994 Mark played the premiere of his own piano concerto in St Petersburg Philharmonic Hall with the St Petersburg State Symphony Orchestra. Two years later he was a prize-winner in the first Tokyo International Competition for Chamber Music Composition. More recently he composed an oratorio which took a fresh perspective on the Joan of Arc story. For its premiere Mark conducted over 1000 performers at the Sydney Opera House. His latest major orchestral composition was premiered under the baton of internationally-renowned conductor Kristjan Järvi. Mark has also composed music for film, television and the theatre (most recently writing a jazz score for the Sydney Theatre Company production of Three Days of Rain by renowned New York playwright Richard Greenburg) and he also writes songs (including lyrics). Mark has conducted his music with major Australian orchestras and recorded recitals of classical piano repertoire.
While all this has been happening, his jazz career has taken him on tours around the world and into some legendary company. He recorded the album Encounters in New York, leading a towering rhythm-section of bassist Dave Holland and drummer Roy Haynes, two of the artform's most esteemed international figures. This album was released twice in Australia and in Europe on the veraBra label, to very strong acclaim. Other major recording projects have included the 4-CD set of improvised solo piano music The Elements.
Mark has toured and recorded with the great Canadian jazz trumpeter Kenny Wheeler, for whom he wrote the three-movement Elders Suite. Apart from many tours and festival appearances in Australia & New Zealand, South East Asia and the Pacific, he has made three tours of Russia including a 15-city tour with his jazz trio that culminated in a concert at Moscow's famous Tchaikowsky Hall. On this same tour he played a concert in Vladivostok where he performed his own piano concerto with symphony orchestra before intermission, returning to the stage after intermission leading his jazz trio in what was remarkable programming for an artist at any level.
Mark's most recent CD Closer was released internationally on the Naxos Jazz label in October 2000 and has received rave reviews in the USA, Europe and Australia. He will be making a one-week appearance at the prestigious Pori Jazz Festival, Finland in July this year leading a trio with distinguished New York players Adam Nussbaum (drums) and Jay Anderson (bass). Other projects for 2002 include a new commission for the distinguished chamber group the Australia Ensemble, for premiere in Australia and subsequent international touring.